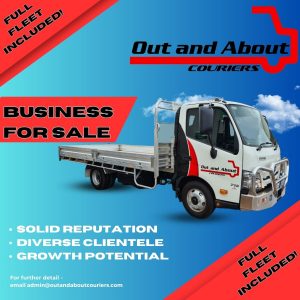 Are you on the lookout for a golden business opportunity in Kalgoorlie-Boulder? Look no further! Out and About Couriers, a family-owned courier business, is now on the market, offering you the chance to step into a legacy spanning 11 successful years.
Reliability and Trustworthiness
Out and About Couriers has etched its name as a reliable and trustworthy partner in the local courier industry. Over the years, the company has built a solid reputation for delivering parcels with precision and punctuality. This stellar track record has not only secured a dedicated customer base but also positioned the business as a go-to courier service in the community.
Serving a Wide Spectrum of Clients
One of the key feathers in the business's cap is its diverse clientele. From mining suppliers to commercial establishments, from local businesses to individual customers, Out and About Couriers caters to a wide range of clients. This diverse portfolio translates to consistent revenue streams, making it a financially stable venture for any potential owner.
Strategic Advantage
Nestled in Kalgoorlie-Boulder, the business enjoys the advantage of being situated in a thriving economic and mining hub. This prime location not only streamlines the logistics but also opens doors to numerous growth opportunities. As the e-commerce landscape expands and the demand for efficient delivery solutions rises, the business is well-positioned to tap into these emerging trends.
Seize the Potential for Growth
With the current surge in delivery demands, the potential for growth in the courier industry is remarkable. By taking the reins of Out and About Couriers, you're not just acquiring a well-established entity; you're also stepping into a world of untapped growth potential. This is your chance to leverage the existing foundation and soar to new heights.
A Family Legacy and Community Bond
Out and About Couriers isn't just a business; it's a family legacy nurtured over the years with care and dedication. The sense of community runs deep within its ethos, reflecting the values that the business has been built upon. Customers aren't just clients; they're an extended family that has contributed to the success story of the business.
Your Opportunity Awaits
If you're an aspiring entrepreneur seeking an established business with a strong foundation, a loyal customer base, and promising growth prospects, this opportunity is tailor-made for you. The sale encompasses all operational assets, customer relationships, and intellectual property, ensuring a seamless transition for the new owner.
In conclusion, the chance to own and lead a well-respected courier business like Out and About Couriers is a rare find. With a stellar reputation, diverse clientele and potential for expansion, this venture encapsulates the essence of a solid investment. Take the reins and continue the journey of Out and About Couriers.
For details – email admin@outandaboutcouriers.com